Latest Release Notes
Find out about our latest releases, product updates, fixes & changes.
16th July 2021
2nd July 2021
18th June 2021
4th June 2021
16th July 2021 Release Notes
What's new
NEW!
Come & chat to your peers in the iCompleat Community!
Do you ever log in to iCompleat & wonder: "Am I alone? Is there anyone else out there? Do other people actually process invoices here or am I the unfortunate guinea pig in an elaborate social experiment? Also why did they put that button there?!"
You're finally about to get some answers!
Yes, there are other people out there! (Thousands of you, in fact.) No, you're not part of an elaborate social experiment. And we're sorry about the button.
Introducing... the iCompleat Community! A place to meet your peers, have your say, & feel a little less alone in this strange & wonderful world of AP automation.

Join the Community today & submit feature requests, discuss our latest releases, chat about whatever takes your fancy & mingle with a bunch of lovely iCompleat-lovin' folks like yourself. We might even get that button sorted for you…
NEW!
Create rules using your custom codes

You can now create more detailed rules in Manage Events with the addition of custom codes & any extracted header information!
Until now, custom rules criteria was limited to the codes & analysis items iCompleat caches from your finance system, but we wanted to extend that include all of the detailed & useful information that affects your transactions.
You can now create rules based on both the unique custom codes that you create, plus any data that iCompleat extracts from invoice headers. This could include supplier email address, bank names, IBAN numbers & more.
Go forth & automate!
NEW!
We can handle your gigantic list of suppliers
In the past, we've not always been able to successfully cache over particularly long lists of +1000 suppliers from a finance system to iCompleat, with some suppliers simply slipping the net & not making it through the cache.
We've made vast improvements to the way we cache over suppliers & we're excited to tell you that we can now seamlessly cache that whopping list of suppliers of yours into iCompleat in its entirety.
NEW!
Choose the supplier types you'd like to cache from Sage Intacct

As a Sage Intacct user, it's likely that you use its handy feature to split your suppliers into different types. We've now added the ability to choose exactly which of these supplier types you'd like to cache into iCompleat & which ones you aren't concerned about using here.
All of our customers connected to Sage Intacct must disconnect & connect again to Sage Intacct following this update, regardless of whether they'd like to make use of the supplier type selection feature or not.
The new connection process includes 2 addition steps:
Adding a new permission to your web services user role in Sage Intacct (Accounts Payable > Ap Terms > tick the View checkbox)

Choosing the supplier types you'd like to cache from Sage Intacct
Click here for the full updated steps on connecting to Sage Intacct
Fixes
FIXED!
Sage 200 payment due dates
iCompleat wasn't posting payment due dates from iCompleat to Sage 50, & the payment due date wasn't available on the invoice editing page to be viewed & amended.
FIXED!
NetSuite account codes not caching correctly
iCompleat was caching account codes from NetSuite with incorrect values. This has been resolved.
2nd July 2021 Release Notes
What's new
NEW!
Enhanced filtering by companies in order & invoice trays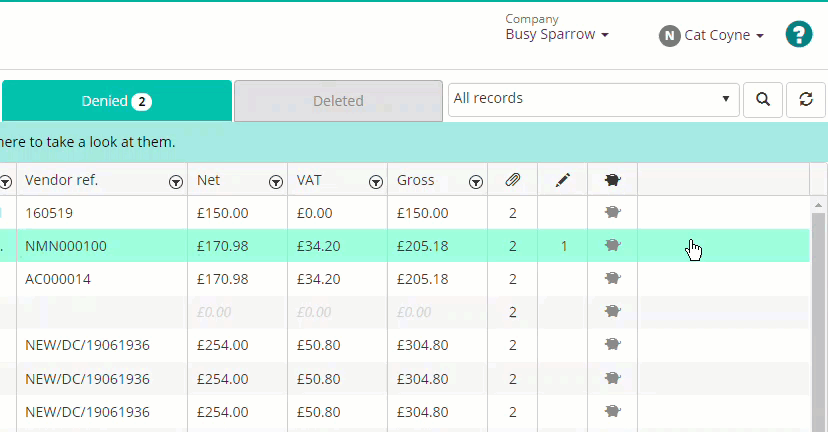 If you've got multiple companies set up in iCompleat, this update is for you.
We've enhanced the filtering drop-down within the invoice and order trays so instead of only being able to filter by all records or just the ones relating to the current company you're currently in, you can now select multiple companies.
Simply click the drop-down, choose one or more companies, and watch the tray re-organise.
This should make it 100x easier for you to not only drill down to the transactions you're after, but also get a quick overview of what's what in each of your companies.
Enjoy the update!
NEW!
Here's a bunch of extra criteria for creating custom rules!
Custom rules in Manage events are one of the coolest features behind iCompleat's automation smarts, letting you influence the behaviour of your company with razor-sharp precision.
We've just added a new bunch of criteria to play with, putting the power in your hands to create custom rules based on these invoice header details:
Supplier email address

Registration number

Bank sort code

Bank account number

IBAN

Swift code

Bank name

File name

Address 1

Address 2
What's more, you can now make rules influence to the entire transaction, rather than simply the header or line. This includes being able to transfer the invoice to a new company based on custom criteria. More on that below!
NEW!
Automatically transfer transactions to another company based on custom codes
We recently launched the new Transfer button giving you the power to send transactions to another company, or change the transaction type from invoice to credit note, & vice versa.
Now, that process can be automated! If you regularly receive invoices or credit notes that you'd like to direct to a different company within iCompleat for processing based on certain criteria, then a quick automation rule could be just the ticket.
To set up your rule, simply go to Manage events, and make these selections:

Then begin creating a new custom rule, beginning with the criteria that you'd like iCompleat to use for transferring invoices to a different company. We're using the supplier email address in this example:

Next, configure the actions to be taken. In the drop-down under …then perform these actions, choose to the transaction.
A popup appears letting you choose which company to transfer the transaction to: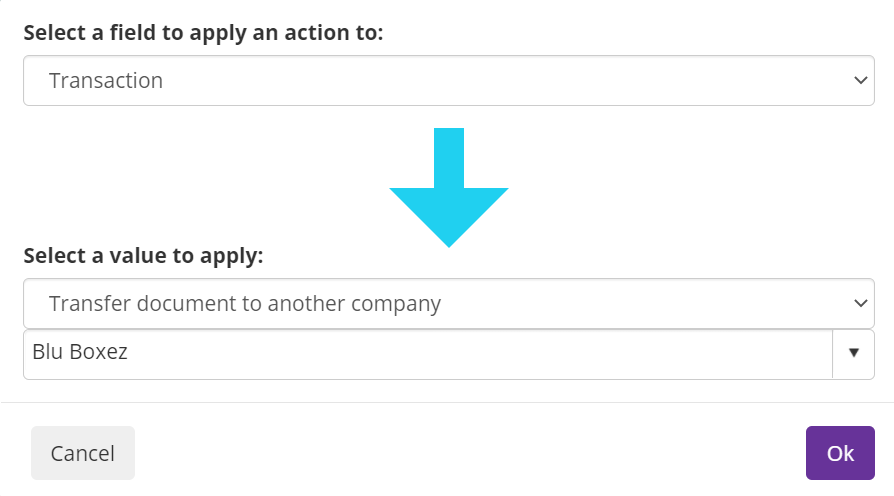 Save the rule, and you're all set!
All invoices that meet the criteria you selected will be automatically transferred to the company you select as soon as they arrive in iCompleat.
Fixes
FIXED!
Sage Intacct validation error
The credit note or invoice date was getting removed from the editing page, causing a validation error when processing.
FIXED!
US date format error on invoices
When changing the currency on an invoice to US Dollars, the date on the invoice was automatically converting to the US format (mm/dd/yyyy).
18th June 2021 Release Notes
Just a few bugs squashed this week. 🦟
Stay tuned for exciting updates soon!
Fixes
FIXED!
Sage 50 (UK) Payment due date not being posted
Our Sage 50 UK connector wasn't posting payment due dates from iCompleat to Sage 50.
FIXED!
Supplier email address not auto-populated for Event
When you had an Event set up so that approved orders are sent to the supplier using the supplier's email address from your finance system, when you created an order the email address wasn't automatically populated.
FIXED!
Auto-correct totals option not available
Some customers weren't seeing the option to correct totals when editing unprocessed invoices.
4th June 2021 Release Notes
What's new
NEW!
Change the PO number on an invoice & get matching back on track!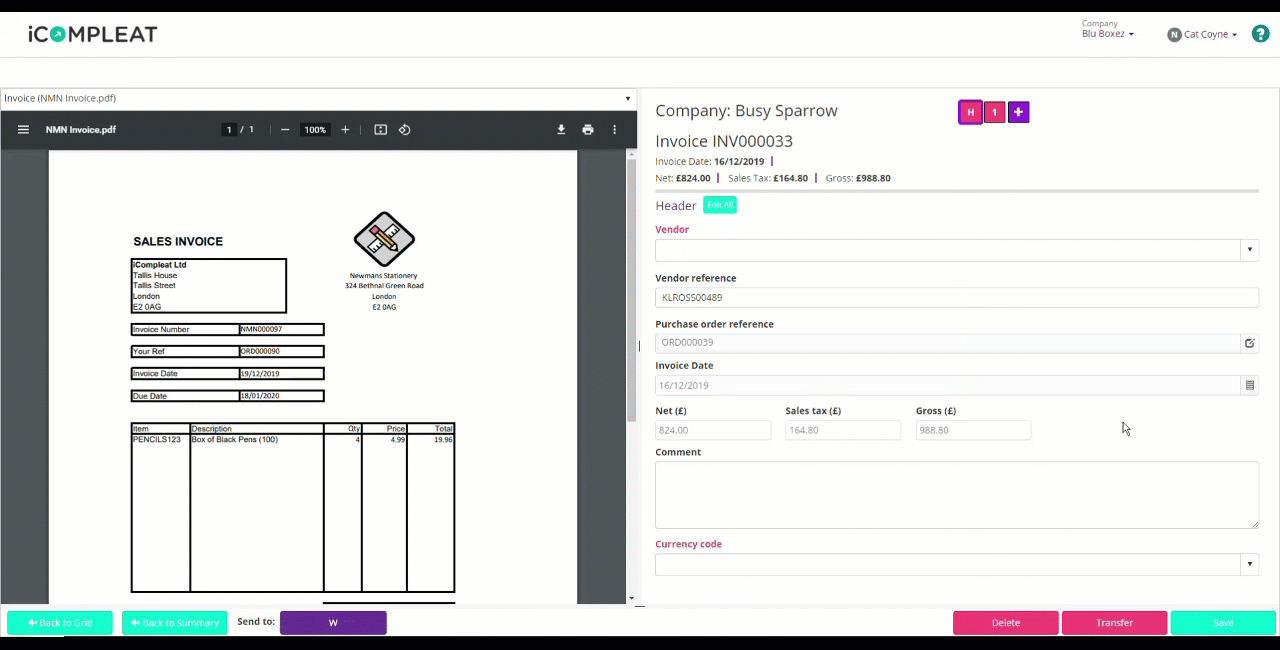 Can you feel a tingling sensation in your fingertips?
Oh, that's just your new superpower to edit the PO number on invoices coursing through your veins! And that swishing sound you hear is the capes of a thousand other AP Operators triumphantly circling the skies in celebration...
Back on earth, an incorrect PO number on an invoice can turn a good day for an AP Operator into a troublesome one. Suppliers adding the wrong PO number to an invoice, or simply making a typo, can interfere with matching and create extra work.

Now, you can swoop to the rescue. Simply click the new editing button beside the PO number on the invoice editing page, enter the correct one, hit Save, and you're back on track.
iCompleat will automatically perform matching again and locate the correct PO, and you can get on with the more important stuff in life.
*Cape not included in feature update
NEW!
Crack down on credit notes pretending to be invoices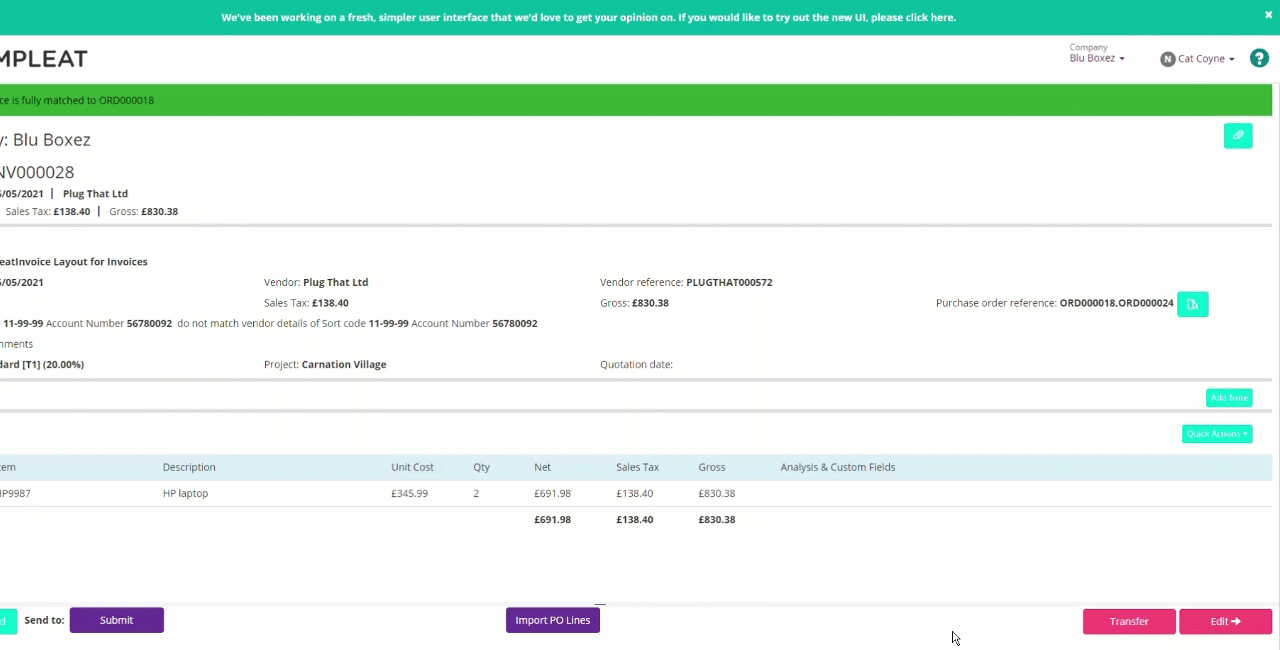 Invoices or credit notes having an identity crisis are a thing of the past! We've just added the life-saving option to turn a credit note pretending to be an invoice into a credit note, and vice versa.
This glitch occurs when our Capture software processes an invoice as a credit note, or the other way round. This can be for a number of reasons, including suppliers creating credit notes that look strikingly similar to invoices. Occasionally a document does slip through our net into iCompleat wearing the wrong shoes, and we wanted to give you the power to fix it quickly.
The solution...
Now, simply open the offending document from the Unprocessed tray, and hit Transfer. Choose the correct transaction type from the middle drop-down, hit Transfer again, and hey presto! Your transaction is living its best life in its rightful footwear. (Is it just us, or is a credit note a casual loafers kind of guy?)

If you only have one credit note/invoice layout, iCompleat will automatically apply that layout. If you have multiple layouts available, you'll be able to select which one to apply to the transaction before you make the transfer.
Enjoy!
NEW!
Transfer an invoice or credit note from the edit page
After we launched the new Transfer feature on the invoice summary page, we had a few requests to add the button to the invoice edit page, too.
You asked, we delivered!
NEW!
Supplier code column on invoice downloads
We heard that you wanted to see the supplier code on your invoice downloads, so we added a column right before the supplier name that will appear in your .csv exports.
We hope this gives you clarity and peace of mind when you're importing invoice data into your accounting software!
NEW!
Choose to post invoices to Sage Intacct as Drafts or Submitted
We understand that you might want to carry out further action on invoices once they arrive in Sage, so we've added the option to submit invoices to Sage either as Drafts or Submitted invoices.
iCompleat Administrators can choose whether their company will post invoices to Sage
as Drafts or Submitted invoices in Company settings > Connection. Just look for the Posting toggle.
NEW!
Sage Intacct Dimensions now display in iCompleat under their correct names
When iCompleat cached your Dimensions from Sage Intacct, it was automatically changing their names to correspond with iCompleat's default fields. We've changed this so that your correctly named Dimensions will always display in iCompleat.
Fixes
FIXED!
Invoice download button not working
The button to download a batch of invoices in the Invoice download area was unresponsive.
FIXED!
Sage Intacct Project & Department codes displaying the code description, but not the name
iCompleat was caching the Project & Department codes from Sage Intacct but was displaying only the code description, not the code name, on transactions and under drop-downs.